Masking technology improves the integrity of the SiteZone proximity warning system by
limiting the detection of tag wearers when they're in a safe area such as a segregated walkway.
This is ideal for sites with complex infrastructure such as waste management and warehousing.
Key Benefits
Works with your existing infrastructure to limit the detection of people in safe areas
Reduces unnecessary alarms increasing the integrity of the system
Increases the accuracy of the data related to zone breaches
Enables the SiteZone proximity warning systems to work optimally on sites with complex environments and segregation already in place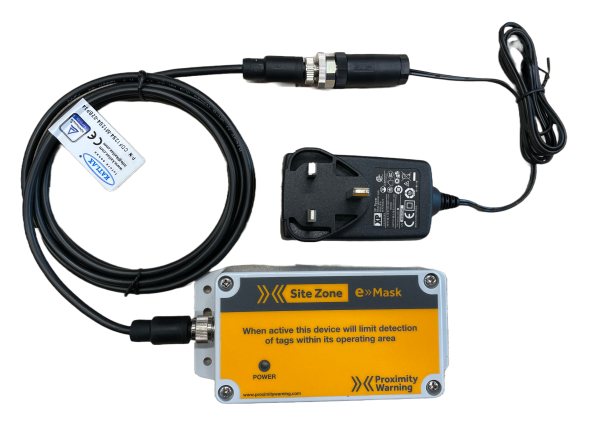 E-Mask Limiter (spot/mains)
The spot/mains limiter is designed to limit/mask detection of tags in small areas where personnel are segregated from site vehicles and already safe. These are installed to a mains power point. The e-mask limiter is ideal for offices or containers where people are working inside.
E-Mask Limiter (vehicle)
The vehicle limiter is designed to limit/mask the detection of tags worn by people traveling in vehicles that may pass machinery fitted with the SiteZone system. It comes with a connection for plugging into the auxiliary power outlet (cigarette lighter). It can also be used for elevating cabs to avoid the driver being detected when the cab is elevated.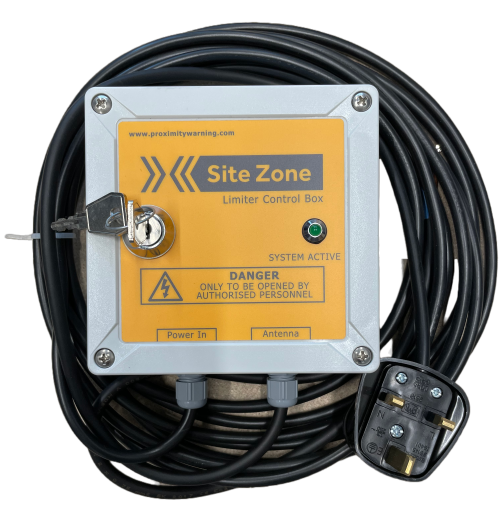 Walkway Limiter
The Walkway Limiter has been designed to prevent the detection of people in physically segregated areas. A single Walkway Limiter can be used to mask a walkway up to 100m in length and also daisy chained with another limiter to extend the length. This is useful inside buildings and facilities.
As part of our site survey we'll always review the infrastructure on your site to see where limiting would be needed.
Request site survey