SiteZone Proximity Warning System
Successfully installed thousands of times and used in a wide range of industries, SiteZone is the UK's leading vehicle to pedestrian interface system and is proven to reduce the risk of collisions.
Key Benefits
Create a safer workplace
Reduce the risk of vehicle - personnel collisions
Improve personnel awareness and affect behavioural change
Provides a double layer of protection - pedestrian and driver alerted
Complements existing safe systems of work such as thumbs up protocol
How does SiteZone work?
The SiteZone Proximity Warning System produces a detection zone around a vehicle, machine, or even a restricted area.
When the detection zone is breached by someone wearing a SiteZone transponder (tag) the machine operator is alerted to their presence and can take the appropriate action.
The main purpose of SiteZone is to alert personnel to a potential collision. Combine this with the insights you get from the data about on-site usage and you can improve safety behaviours.
Want to know if this is the right system for your site?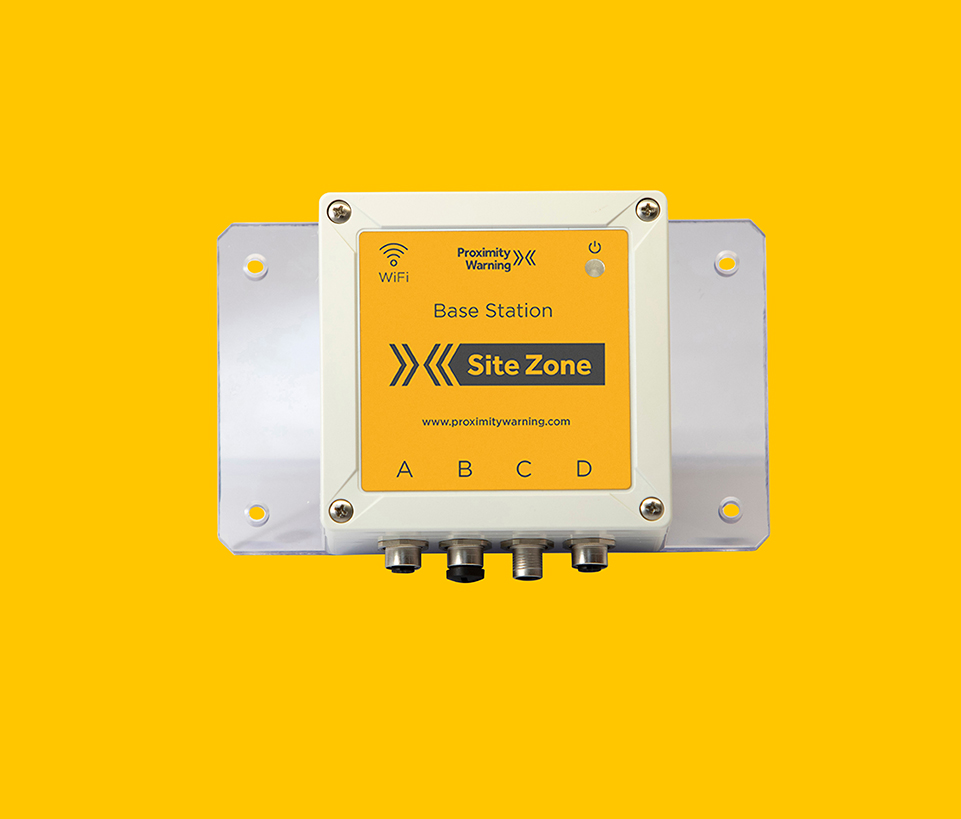 Base Station
Generates a detection zone or bubble around the vehicle using radio frequency. The size of this bubble can be varied to meet site requirements.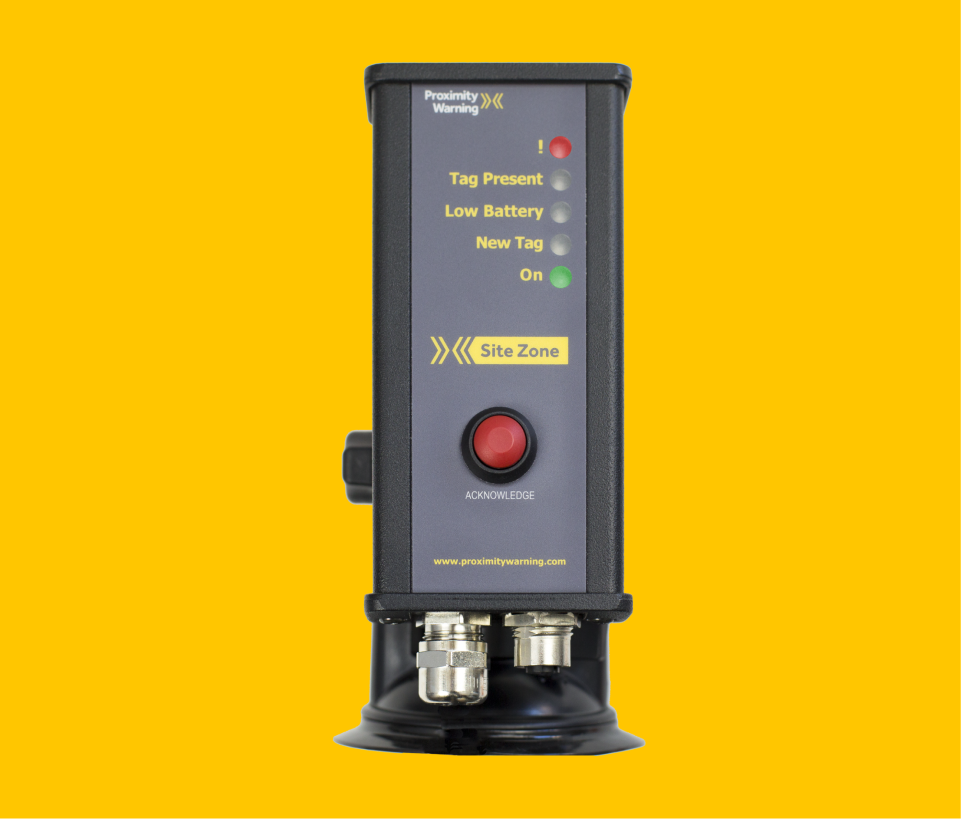 Operator Display Unit (ODU)
Fixes into the cab and alerts the machine operator to zone/bubble breaches and enables them to control authorised approaches.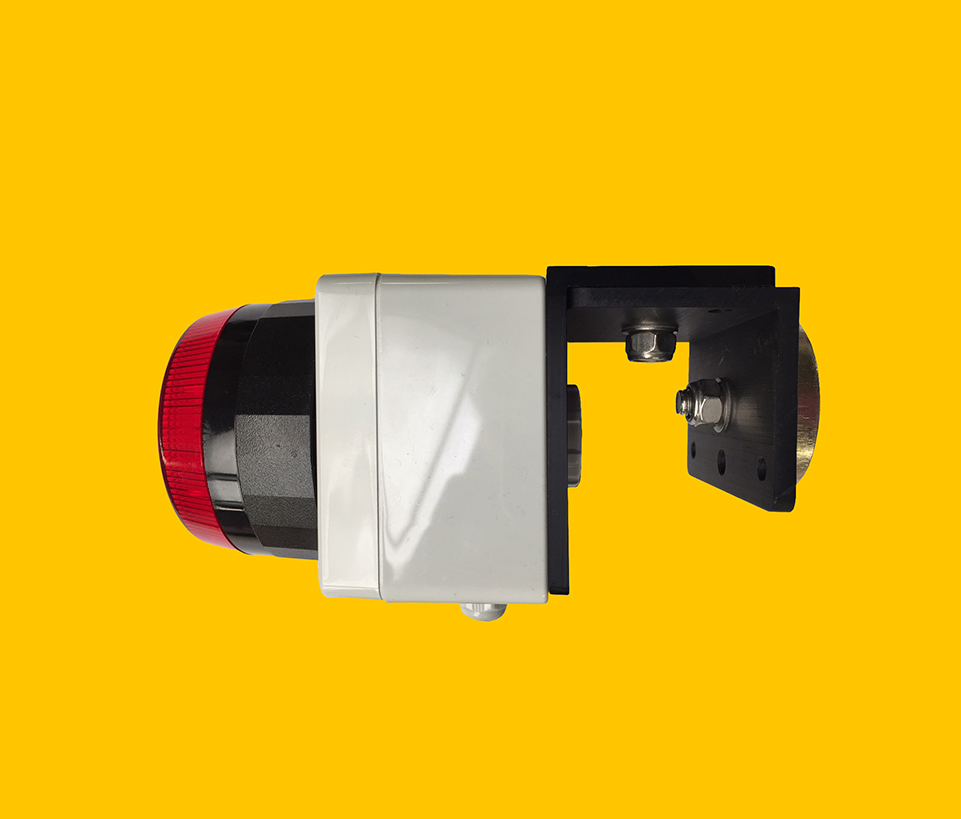 External Alarm/Beacon Combo
When the system is active the beacon flashes. When the zone is breached the beacon flashes continually and the alarm sounds to alert the person breaching a safety zone and allow them to retreat to a safer location.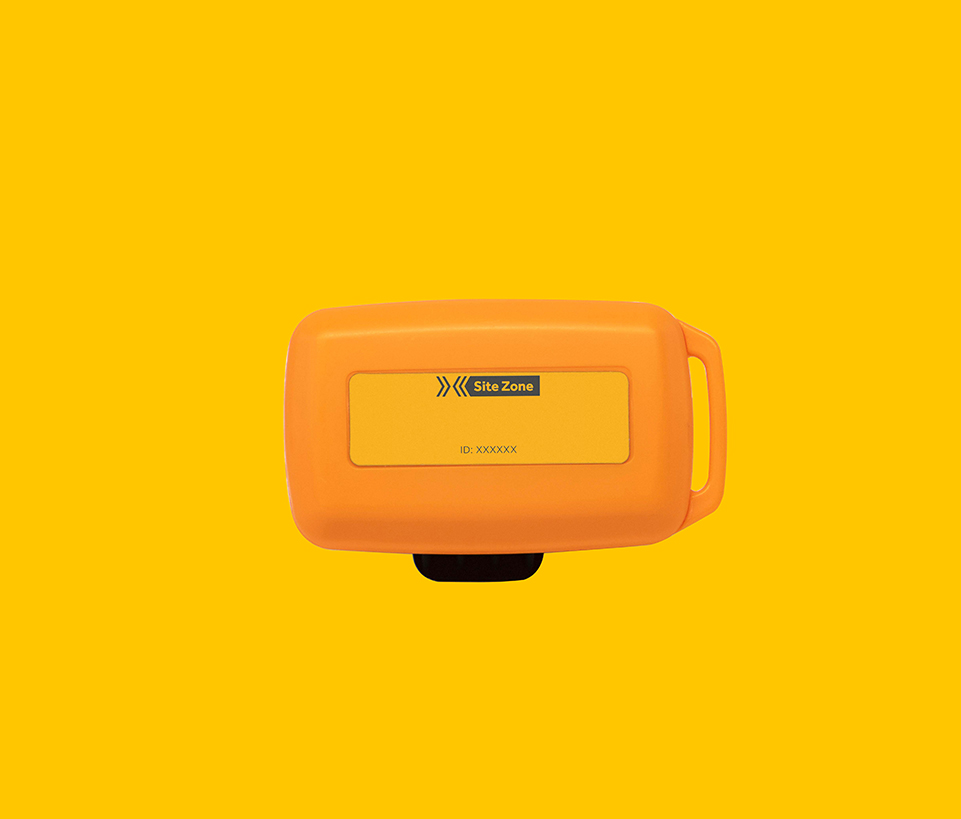 Personal Tag
Designed to be an integral part of your PPE. They are tamper-proof, require no maintenance, and have 3-year battery life. SiteZone tags are available in a range of options including a helmet mount vibrating version.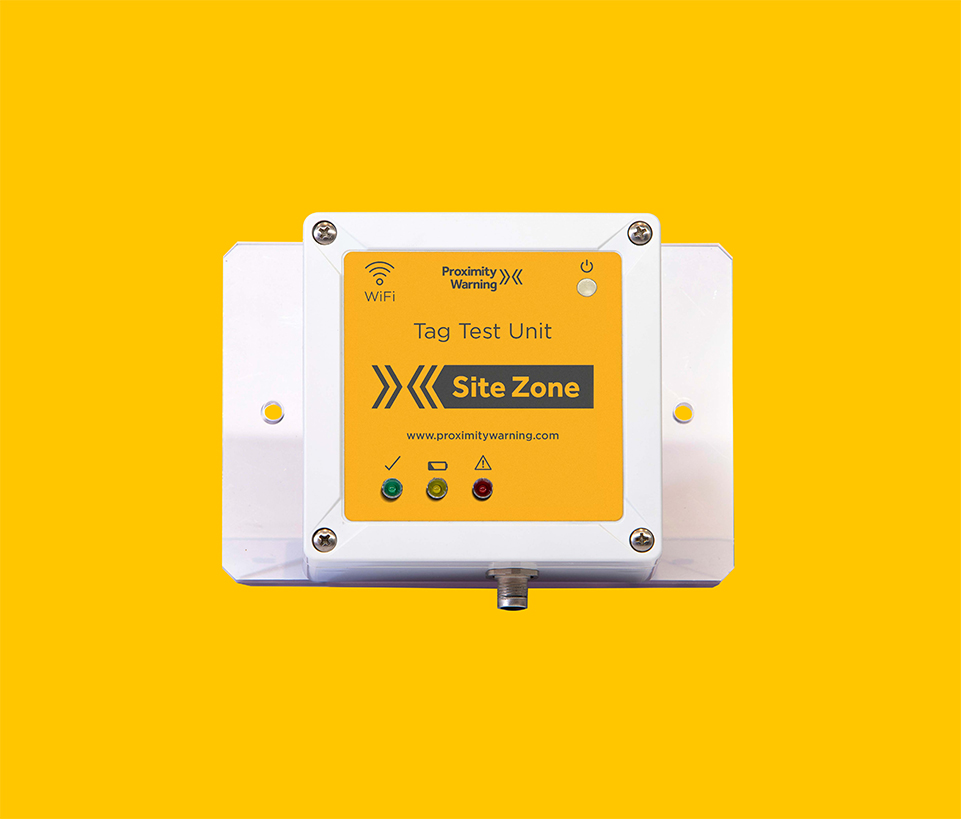 Tag Test Unit
Allows users to easily check that their tag is working correctly. Depending on site protocol, tags should be tested before entering site.
Oversite - data and performance
Gain unique insights by remotely monitoring the interactions between vehicles and people across all your sites. Read more about our remote analytics.
Options & sector-specific enhancements
SmartBubble
SmartBubble automatically reduces the size of the detection zone when the machine is in a safe state (stationary or deadmans handle engaged). This allows authorised approaches without triggering workers' SiteZone PWS tags and system alarms if the correct site protocols have been followed.
This option is supplied as standard on all new excavator systems.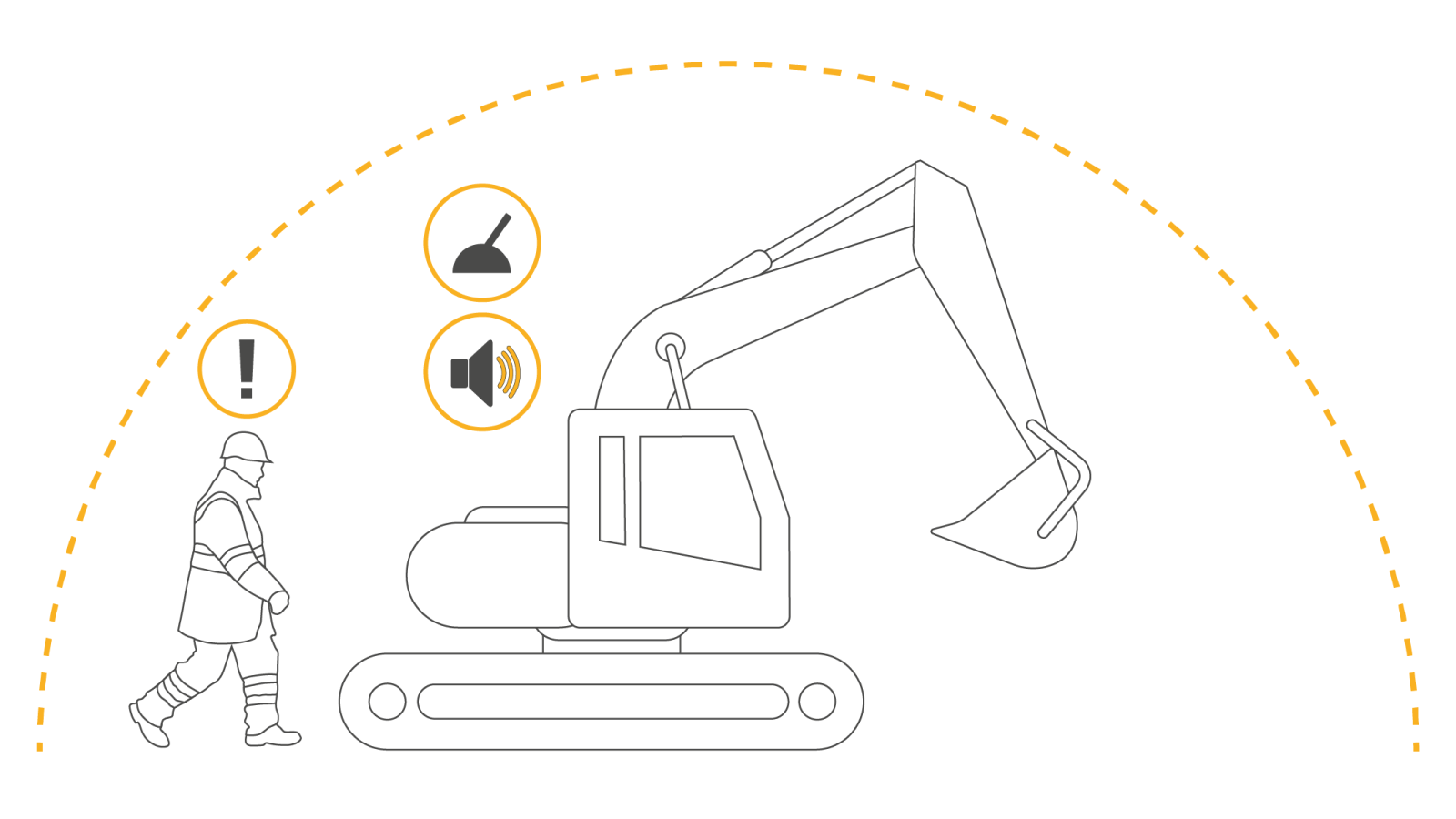 Multi antenna - BucketZone
We can add extra antennas that allow for customisation of zones. These are ideal for larger site vehicles such as articulated dump trucks and mobile cranes.
BucketZone is a hard-wearing antenna that can be fixed to the bucket. It creates a secondary zone around the working equipment of a machine. This is suited to machines such as excavators and loading shovels.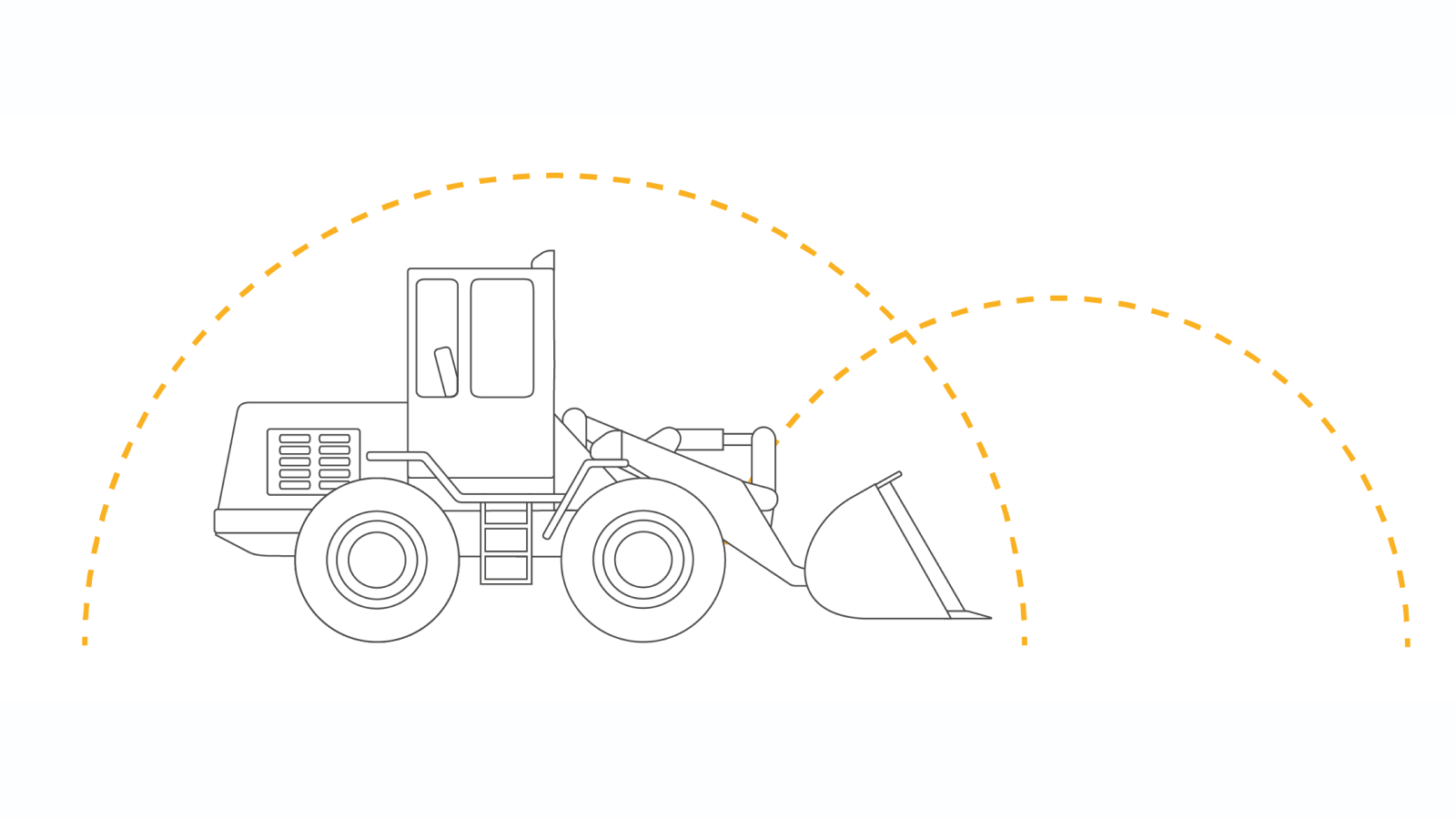 EasyFit or Fixed Install
You can choose to have your system hard-wired into the ignition switch of the machine or opt for our EasyFit System that connects to the auxiliary power outlet.
EasyFit can be installed in less than 30 minutes and is suited to the construction market where most mobile plant is hired as required. Fixed installation is used for long-term or permanent installations such as on waste sites.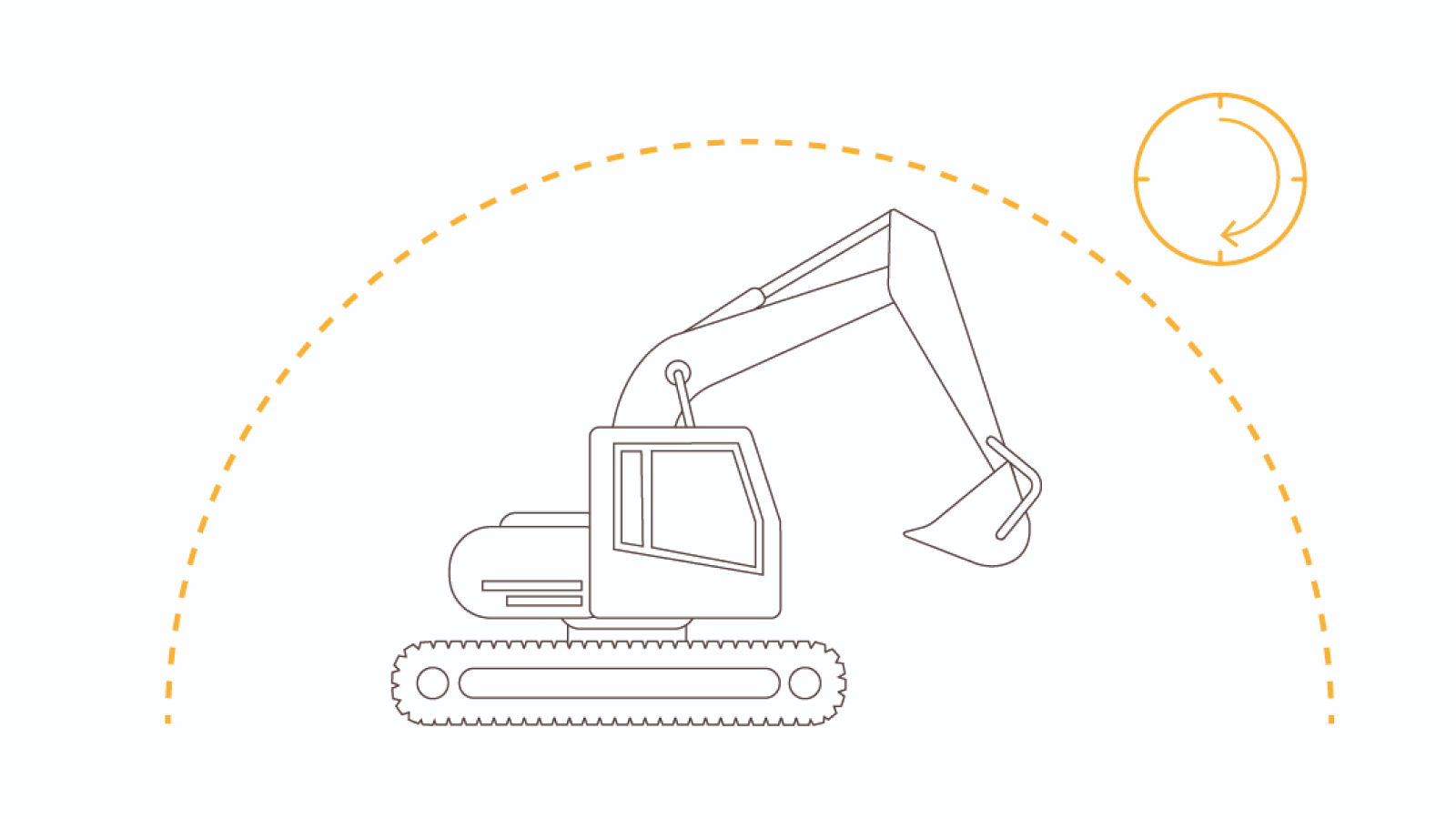 SiteZone iNstant
A wireless proximity warning solution for easy, instant fit. The iNstant product was designed for transient site vehicles such as delivery vehicles or vehicles on very short-term hire. The addition of the iNstant remote display (iRD) makes the SiteZone iNstant ideal for vehicles such as mobile elevating work platforms (MEWPS) where a wired system cannot be used.
The iNstant can also be used to create exclusion zones, a useful function for the rail sector.
Electronic Mask (E-Mask)
The SiteZone E-mask produces a "null zone" which "hides" SiteZone tag wearers from detection by the SiteZone system. They are designed to limit/mask detection of tags in small areas such as:
» Personnel traveling in vehicles that may pass vehicles fitted with the SiteZone system
» Personnel working in safe areas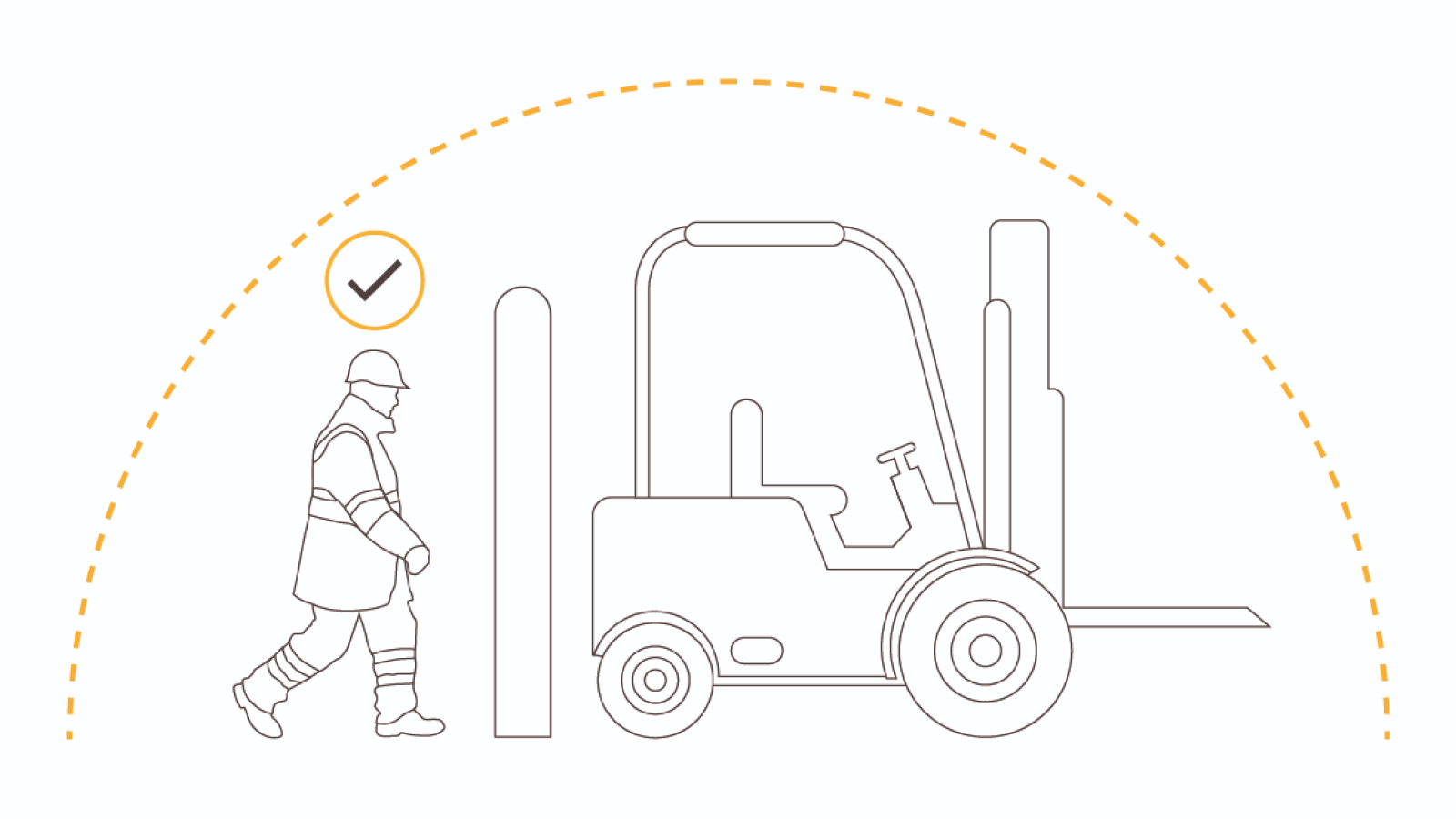 Walkway Mask
The Walkway Mask has been designed to prevent the detection of personnel in physically segregated areas. This is useful inside buildings and facilities.
A single Walkway Mask can be used to mask a walkway up to 100m in length.
Installation may require additional infrastructure such as power points.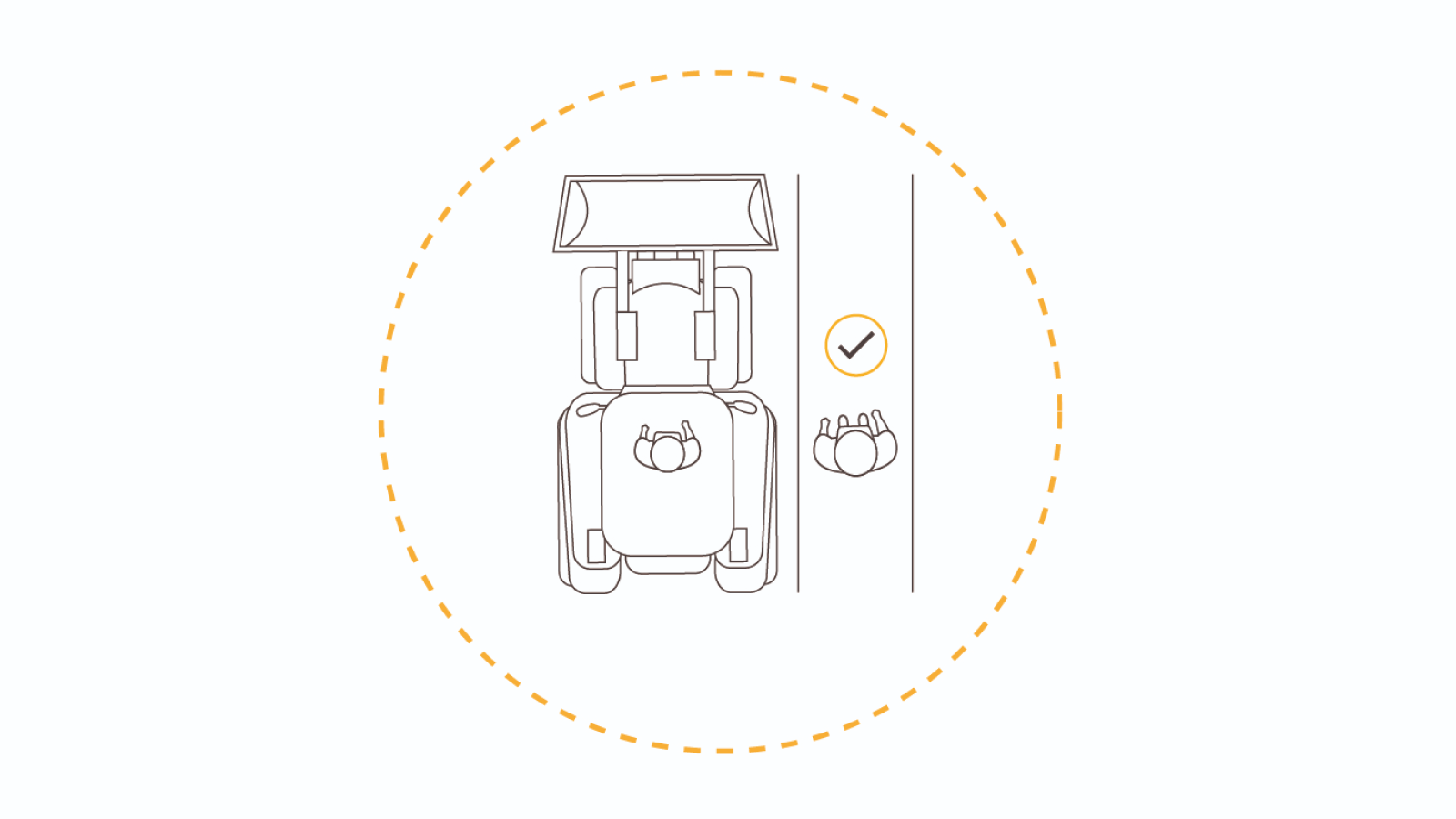 Multi-Zone Selection
SiteZone can have two pre-set detection zones for when vehicles are operating in different environments, this includes the option to switch off antenna for specific operations.
This can be useful in applications where a vehicle works in different environments. The zone can be changed via a supervisor key switch or in some cases using certain machine functions such as the lever lock (deadman's handle) or handbrake.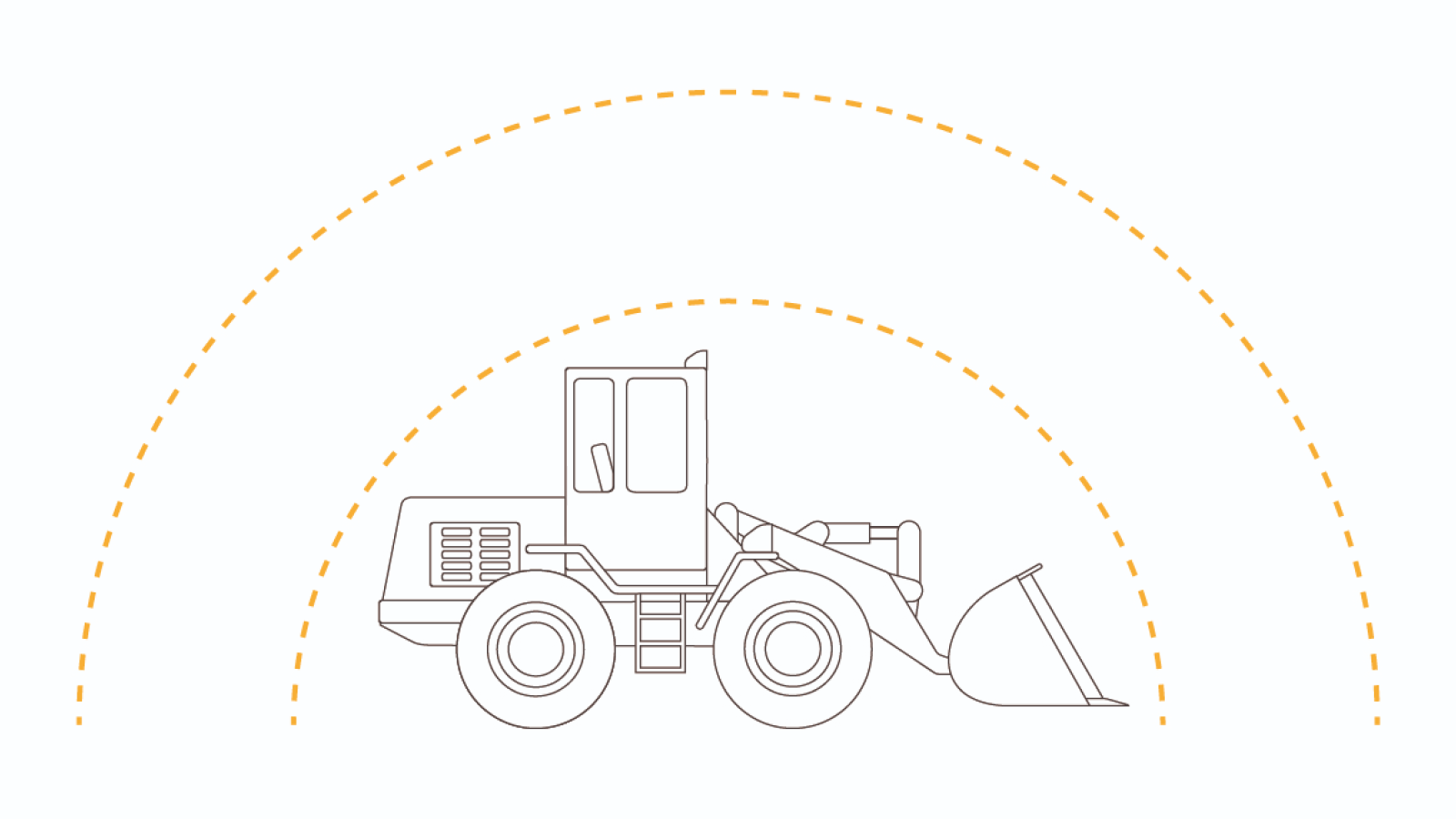 Service Level Agreements
To support you when you are working with SiteZone products, we can offer service level agreements. Depending on your needs and the type of project we can offer a level of service that is right for you.
This can range from setup support and moving between vehicles, annual inspections, maintenance or for larger-scale projects we can provide a dedicated engineer for the life of the project.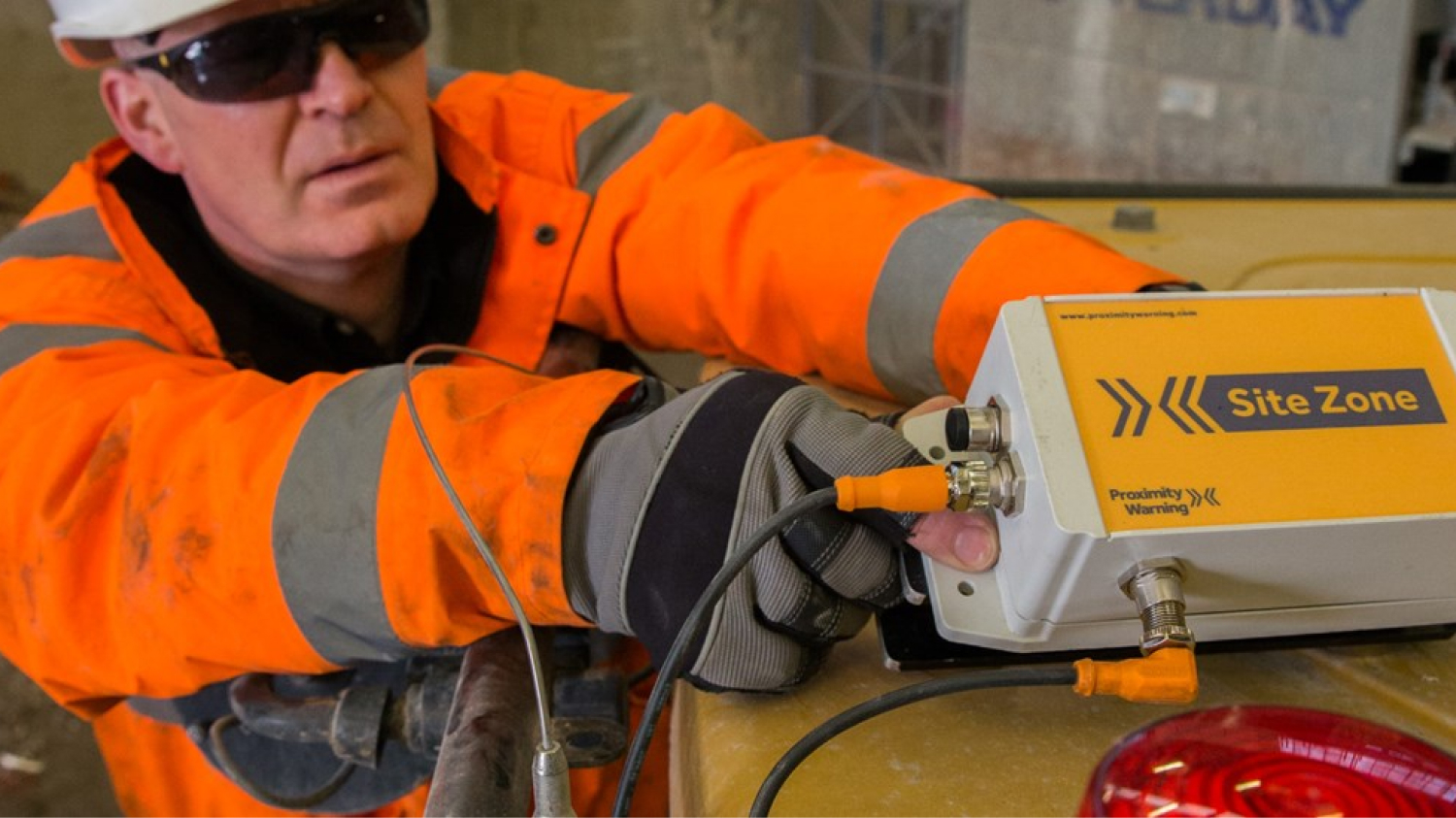 "This technology is really good in use, especially when, as a banksman, you are required to spend most of the time in close proximity to the machine. With the alarm signalling when you enter the exclusion zone of the machine, it notifies of the potential risky situation and continuously helps prevent any harm. It also works amazingly with the Thumbs Up Protocol."
David | Banksman on the A30 project